Friday, 6th December, 2013 |
» Posted in
Love
at 3:20 pm
apparently love takes away pain so that we can do without painkillers & other drugs.  And for so many people who thought that Love just caused pain, well now that theory has been turned on its head, with the release of a new study.  This is so redemptive and encourages us all to call forth our courage to try yet again on the battlefield of Love.  So throw those drugs away & grab a new lover and numb that throbbing headache naturally!
"Pain has its reasons, pleasure is totally indifferent." Francis Picabia
A Stanford study has found that Love is a brilliant pain killer & Science Daily has it covered in Love Takes Up Where Pain Leaves Off, Brain Study Shows:
Intense, passionate feelings of love can provide amazingly effective pain relief, similar to painkillers or such illicit drugs as cocaine, according to a new Stanford

University School of Medicine study.  "When people are in this passionate, all-consuming phase of love, there are significant alterations in their mood that are impacting their experience of pain," said Sean Mackey, MD, PhD, chief of the Division of Pain Management, associate professor of anesthesia and senior author of the study, which will be published online Oct. 13 in PLoS ONE. "We're beginning to tease apart some of these reward systems in the brain and how they influence pain. These are very deep, old systems in our brain that involve dopamine — a primary neurotransmitter that influences mood, reward and motivation."

"It turns out that the areas of the brain activated by intense love are the same areas that drugs use to reduce pain," said Arthur Aron, PhD, a professor of psychology at State University of New York at Stony Brook and one of the study's authors. Aron has been studying love for 30 years. "When thinking about your beloved, there is intense

activation in the reward area of the brain — the same area that lights up when you take cocaine, the same area that lights up when you win a lot of money."

The concept for the study was sparked several years ago at a neuroscience conference when Aron, an expert in the study of love, met up with Mackey, an expert in the research of pain, and they began talking.
"I was nauseous and tingly all over. I was either in love or I had smallpox."Woody Allen
"Art was talking about love," Mackey said. "I was talking about pain. He was talking about the brain systems involved with love. I was talking about the brain systems involved with pain. We realized there was this tremendous overlapping system. We started wondering, 'Is it possible that the two modulate each other?'"

"We intentionally focused on this early phase of passionate love," he added. "We specifically were not looking for longer-lasting, more mature phases of the relationship. We wanted subjects who were feeling euphoric, energetic, obsessively thinking about their beloved, craving their presence.  "When passionate love is described like this, it in some ways sounds like an addiction.   We thought, 'Maybe this does involve similar brain systems as those involved in addictions which are heavily dopamine-related.' Dopamine is the neurotransmitter in our brain that is intimately involved with feeling good."
"The sweetest joy, the wildest woe is love."Pearl Bailey
"With the distraction test, the brain pathways leading to pain relief were mostly cognitive," Younger said. "The reduction of pain was associated with higher, cortical parts of the brain. Love-induced analgesia is much more associated with the reward centers. It appears to involve more primitive aspects of the brain, activating deep structures that may block pain at a spinal level — similar to how opioid analgesics work.

"One of the key sites for love-induced analgesia is the nucleus accumbens, a key reward addiction center for opioids, cocaine and other drugs of abuse. The region tells the brain that you really need to keep doing this," Younger said.

"This tells us that you don't have to just rely on drugs for pain relief," Aron said. "People are feeling intense rewards without the side effects of drugs."
This study brings new hope to many people & of course the online dating industry could now overtake the pharmaceutical industry, if they don't try to hush up the results before too many people cotton on?
I'd like to leave you with a very funny video with Comedian Bryan Erwin on True Love.  Enjoy…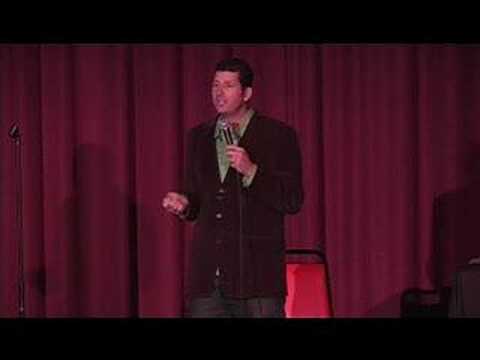 Related articles